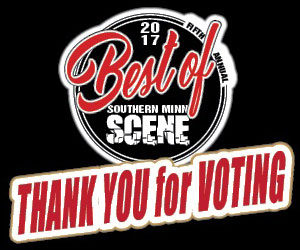 2017 Best of Southern Minn:    Best BBQ, Best Fries, Best Wings & Best Chef (Andy Kubes)
Honorable Mention: Best Burger & Best Lunch Spot
Featured In:
"Great barbecued sandwiches, tasty sides, friendly service and a vintage soundtrack. I wish this restaurant was in the Twin Cities. We had the Autumn Oinker, pulled pork and brisket sandwiches, beans, faro salad and fries and all were delicious. Way to go Faribault."  – Wayne B.
"While a little tricky to find, it is well worth the effort to seek out this excellent next-generation barbecue joint.  It has the requisite perfectly Smoked Meats , but also serves it up creatively with fresh ingredients and flavors.  There are even options for vegetarians on the small rotating menu."
-Chris S.
"Absolutely delicious!! Total hidden gem. Great prices. Amazing quality. And they support local businesses!! Definitely stop in!"  – Mariel G.
"We must say that it is simply the BEST pulled pork in town! Seasoned perfectly and the slaw was a fabulous addition. Anxious to try the rest of the items on the menu. Thank you for bringing this eatery to life!" – Lisa McDonough